CurlyTreats 2020 Autumn – Curly, Coily, Afro Hair Show, Saturday 31 October 2020, London
WHY ATTEND?
Because who doesn't need some fresh natural hair inspiration?
An exciting and busy event, CURLYTREATS invites you to spend time in the conference sessions and masterclasses of interest to you; browse the popup shops in the expo and meet expert speakers; share experiences with thousands of other visitors at CURLYTREATS.
The CURLYTREATS is open to all – it is mainly a useful event if you are:
In need of encouragement & inspiration on your healthy hair journey.
Seeking hands-on training and knowledge from hair professional.
Transitioning from permed to natural hair or newly natural.
Natural but a wearer of protective hairstyles, e.g. braids, wigs, weaves, etc.
Seeking hair care education about how to grow healthy natural hair.
A parent of a child with curls, coils, fro or locs.
Thinking about giving up the harmful chemicals from relaxers.
Learn about products ingredients from the brands & people who use them.
A product junkie seeking discounted hair products and discover new brands.
Seeking collaboration opportunities as a blogger, vlogger or influencer.
Interested in celebrating your natural beauty.
FEATURED IMAGES FROM CURLYTREATS 2019
We welcomed over five thousand visitors at our Autumn / Winter edition of CURLYTREATS. On Saturday, October 25, visitors explored the expo, joined educational conference talks for adults, engaged in break-out sessions for young people, and boogied down to great music. Here's a few curated photos taken at the event.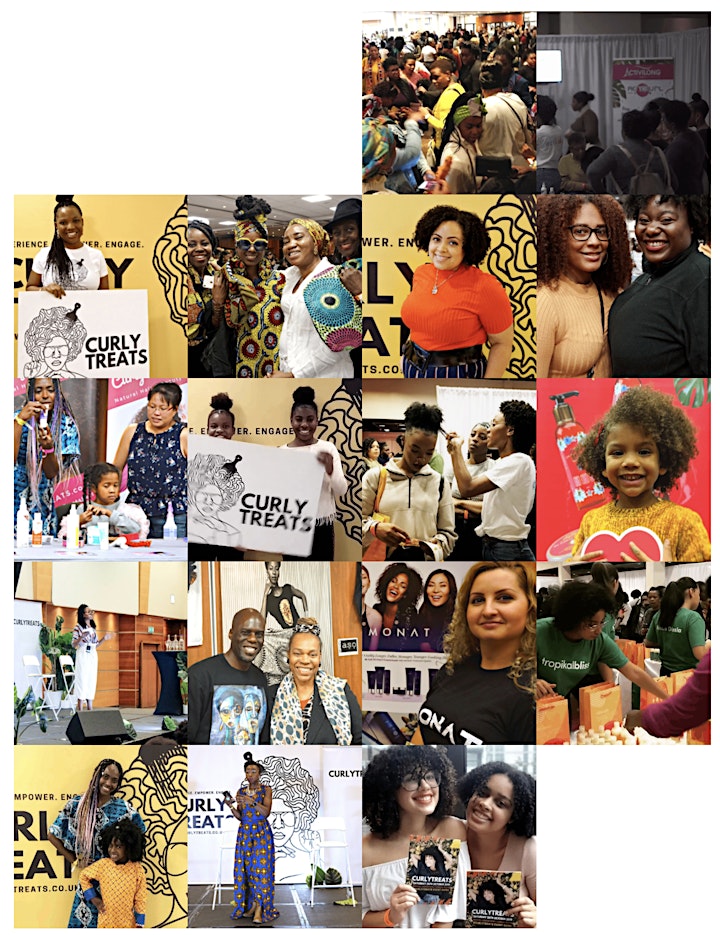 ABOUT
"Together we celebrate, together we empower" – Vinna Best, CEO
CURLYTREATS is a premier destination for the curly hair community.
Back by popular demand, the Autumn / Winter edition of CURLYTREATS will take place on Saturday 31st October 2020 at NOVOTEL West London in Hammersmith. We commit to providing hair education to people who have an interest in natural hair care, health, styling and products.
Our mission is to provide transformational experiences where people can empower, educate, encourage and enhance each others lives.
CURLYTREATS creates experiences that uplifts and strengthens the natural hair community.
CURLYTREATS events offer a wide range of activities for visitors, including the expo, conference talks, break-out sessions and masterclasses.
To buy tickets, click here.
See more hair events here.